To print a linear genome map, do the following operations.
Click the printer button at the top to display the print dialog.
Immediately after display, the same range as the map screen is displayed, but you can set the page independently in the print dialog.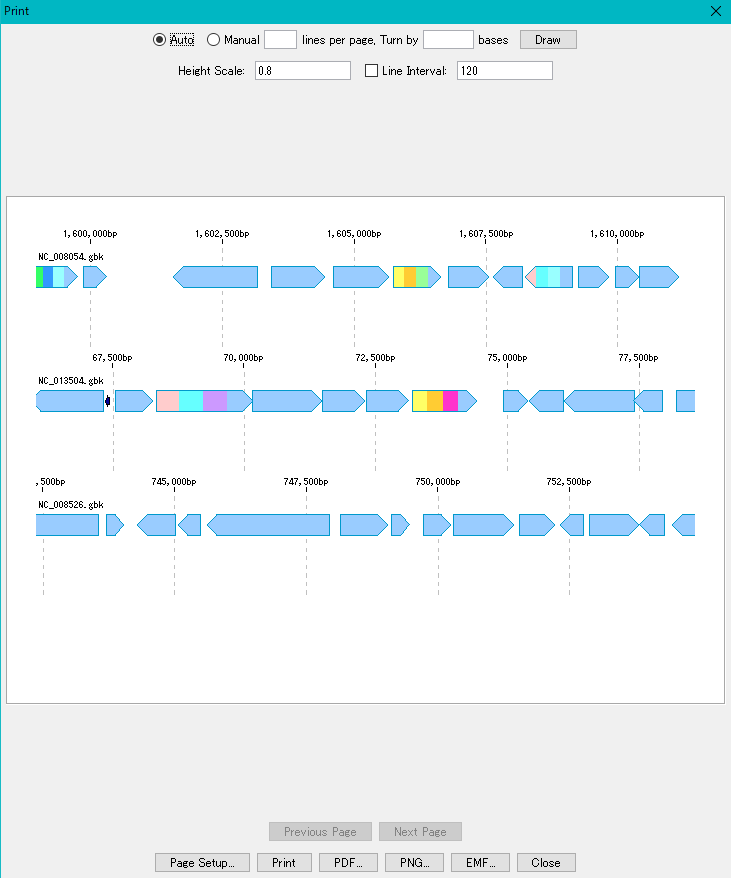 You can select the output destination directly to the default printer and output to the image file (PDF, PNG, EMF).

With the setting parameters at the top of the print dialog you can change the distance between lanes, change the height scale, the number of bases to print on one page, and the number of lines to print on one page.

The page setting is normally Auto, and the same area as the screen is displayed.
By changing to Manual, you can see the printed image in the zoomed-in state by changing the number of bases to be printed on one page.
Depending on the scale change, the number of pages to be printed may be multiple, but in this case the page control key is active at the bottom. The current page number and the total number of pages are displayed in the upper left of the print dialog.


For linear genomic maps, it is often the case that multiple genomes are displayed in parallel, so leave the number of lines that can be printed per page as 1.
You can display another page by clicking the page button. Since this display views the already drawn page, it can be displayed faster than scrolling the linear genome map sideways on the screen.
By first displaying the entire genome and changing the number of bases changing the page, you can see the details of the whole genome at high speed.
You can reduce the height of one line or change the width of one line.
Height Scale is a parameter that changes the height of the feature, and if it is 0.5, it becomes a feature 0.5 times as high as the actual height. If it is 2, it will be double the height.
By checking Line Interval and changing the numerical value, you can change the height occupied by one line, and it will be possible to draw another line by wrapping on one page.