Cloning
IMC is characterized by being able to perform operations of cloning experiment on computer. In this case, special data is unnecessary and it is possible to clone DNA sequence data which can be obtained from a public database such as GenBank or EMBL as it is. For cloning, restriction enzyme digestion, PCR primer design, PCR amplification, and ligation can be performed without changing the annotated sequence. All resulting cloning products are output in GenBank / EMBL format. Since Primer information is pasted and stored on the DNA sequence, it is also useful for Primer management.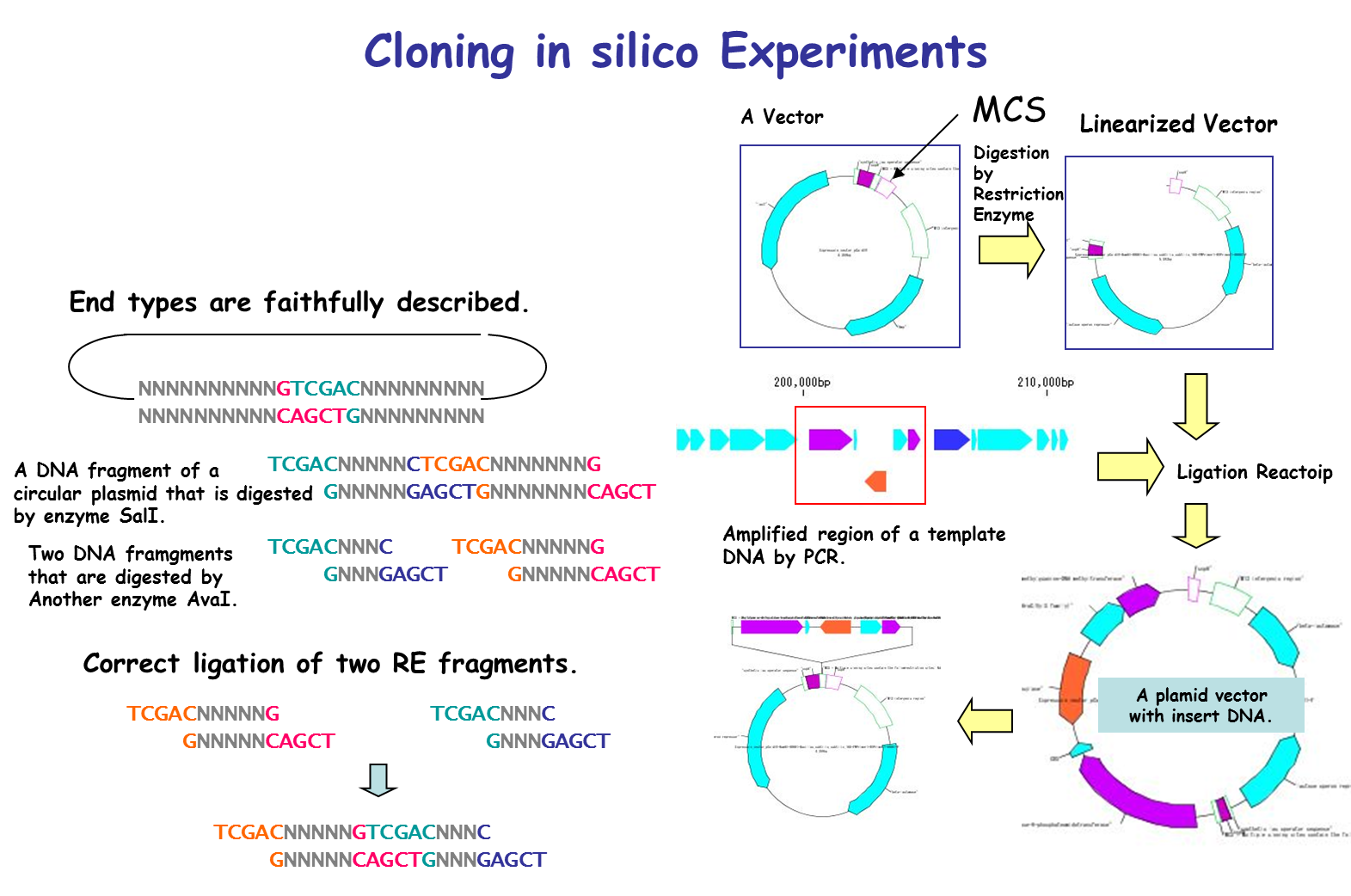 It is a cloning function that can actually cut / ligate.
in silico cloning experiment is possible.
It will help you to understand invisible molecular biology experiments. It can be used for assisting and simulating molecular biology experiments.
You can construct arbitrary Vector / Plasmid.
We will list optimal restriction enzymes for Vector insert check and simulate the gel electrophoresis results.
Restriction enzyme treatment (restriction enzyme map, restriction enzyme digestion fragment generation, optimal restriction enzyme candidate list for insert check, others)
PCR primer design,
Primer design to avoid specific features,
PCR replication (including annotation),
Batch primer design to amplify all genes,
Primer management ligation, self-ligation,
Checking compatibility of base fragment end shape
Plasmid map creation (Insert area blowing function) (Layout style correspondence)
Addition of restriction enzyme recognition site to cloning DNA terminus with annotation described
DNA terminal blunting, phosphorylation (dephosphorylation
Arbitrary region extraction of annotated base sequence
Subcategories
Using IMC's in silico cloning function, continuous cloning experiment on PC or Mac is possible.
Digestion of the genomic DNA sequence with restriction enzyme, gel electrophoresis of the fragment, ligation to the opened vector, etc. can be carried out in succession.
With the restriction enzyme function of IMC, if annotation (Feature) is added to the original DNA base sequence, it can be fragmented with the annotation kept.
If one feature is divided by a restriction enzyme, its feature itself is inherited, but in some circumstances the feature key may be changed automatically.
The terminal shape of restriction enzyme digested fragments is preserved correctly. By doing this, we check whether ligation is possible when ligation between pieces is done.
In E. coli, it can be checked whether the methylation site affects restriction enzyme digestion.
It is also possible to register frequently used restriction enzymes as a set.
It is also possible to register newly provided restriction enzymes or delete restriction enzymes that are no longer used.
Restriction enzyme management
Partial set selection,
Filtering by type


Distinction of the number of recognized bases
Palindromic
Distinction between smooth and protruding ends
Presence / absence of DAM / DCM
Difference depending on the number of cutting points

Alias names of restriction enzymes list can be saved, list editing is possible.
You can also register enzymes, edit enzymes, delete enzymes.
Search function of restriction enzyme recognition site
Search area selection,
Recognition site search,
Recognition site list display,
Restriction map display,
Collective search from multiple sequences
IMC has various PCR Primer design methods.
The ability to simply drag the nucleotide sequence on the sequence lane and register it as a primer
Register primers from the sequence lane
Register primers from the feature lane
Ability to design features on the feature lane and primers to amplify inside and outside the selected area
Primer design for amplifying included products, including selected features of feature lanes
Primer design for amplifying the product containing or containing the selected genomic region of the feature lane
A function of designing primers that amplify a large number of areas at once (with Iterate Design function: it is a function to repeat the design until there is no area that can not be designed)
Batch PCR Primer Design Batch PCR primer design to amplify all features with specified feature key on genome
Whole Genome Covering PCR Primer Design PCR primer design that PCR product completely overlaps whole genome or large genomic region with PCR product overlapping
Sequencing Primer Design: Sequence primer design for sequencing DNA fragments that can not be covered with one lead of a capillary sequencer
reference
The following is a function to design a group of primers for cloning multiple DNA fragments at once, such as gene cluster design. From design to cloning, you can load cloned products into the IMC.
In-Fusion Design Ver.1: Primer design function for In-Fusion Cloning
In-Fusion Design & Build Ver.2: Primer design function for In-Fusion Cloning
In-Fusion Design & Build Ver. 3: Ability to design and build gene clusters by dropping DNA fragments to be inserted into vector sequences
Batch Gene Cluster Design & Build: the ability to design and build lumped numerous gene clusters by replacing the gene sets that make up the cluster
Combinatorial Design & Build: The ability to combinatorially combine design and build a fragment constituting a gene cluster
In the PCR function of IMC, the priming site of the registered primer set is searched from the genome base sequence. If both primers have a priming site on the genome, PCR amplify the region sandwiched between the primers.
In this case, adenine can be made to protrude by 1 base. It is used for TA cloning.
An annotation is inherited also in the amplified PCR product when the template DNA sequence is annotated (Feature).
It is also possible to perform PCR on multiple template DNA sequences.
Purpose and overview
Ligation is an essential experiment to perform molecular cloning. IMC combines various nucleotide sequences including annotated nucleotide sequences with each other in the same manner as in actual cloning experiments to generate the products. All annotations are properly succeeded also to the ligation products and their products can be analyzed using many functions of the IMC as well as the original base sequence.
Function
If the terminal sequences complementarily match each other, ligate them into one base sequence.
Up to 5 fragment segments can be ligated.
You can generate all possible ligation sequences.

In Version 7.24 and later, the complete complementary sequence of the ligation product is counted as a separate product.

Annotated nucleotide sequences of GenBank and EMBL format can be ligated as well, and these annotations are properly inherited by the ligation products.
If the shapes and sequences of the ends of the base sequence complementarily match, a circular base sequence is generated.
It displays a list of restriction enzymes that can be used to check the insert direction of each fragment in the generated ligation product.

Also displays gel electrophoresis pattern when using these restriction enzymes.

Displays the terminal shape of all base sequences loaded in the current folder.
Self-ligation can also generate circular DNA.
It also supports TA cloning of PCR products.
Before ligation, you can see the end shape of each piece.
Plasmid map of the ligation product can be drawn. In this drawing, you can represent the insert area with a balloon
The result of binding by ligation is a covalent bond (phosphodiester bond) equal to the bond between other bases, so after binding it can not distinguish originally.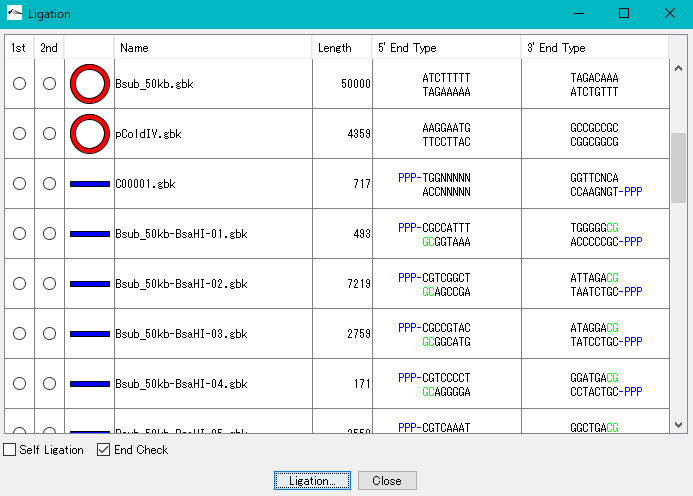 The base sequence generated as a ligation product can be analyzed in the same way as the original base sequence.
Restrictions
Currently, ligation linking 6 or more base sequences is not possible.
Algorithm
For restriction enzyme cleaved sequences on IMC, special Feature Keys and Qualifiers are generated that indicate the terminal status.
When a sequence of PCR products is searched for a group of contig sequences and the PCR product bridges between two contigs, combine the contigs into one sequence.
For Plasmid Map creation, please see Plasmid Map Viewer.
When DNA sequence is digested and fragmented with restriction enzyme, when PCR amplification is carried out, ligation can be displayed as results of gel electrophoresis of those products.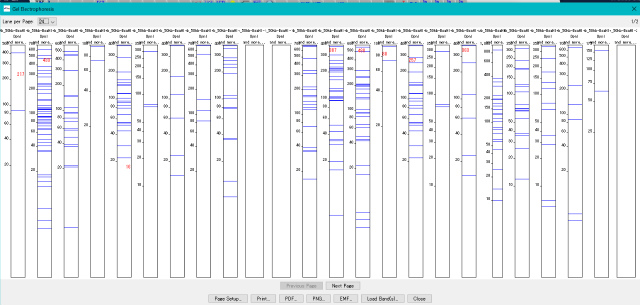 You can modify the ends of DNA fragment sequences.
The terminal modification functions currently provided by IMC are as follows.
Molecular biological treatment
Blunting (blunting by T4 DNA Polymerase, blunting by Mung Bean Nuclease)
Phosphorylation
Dephosphorylation
Adenine overhang on PCR product
Non molecular biological treatment
Production of sequence with protruding thymine (T-Vector)
Attaching of restriction enzyme recognition sequence
If both ends of the DNA fragment to be inserted are cleaved with the same restriction enzymes or have blunt ends by ligation etc., the optimal restriction enzyme candidate for displaying the orientation of the insert is indicated by gel electrophoresis diagram .
In the genome design function, a homology arm for homologous recombination is designed from the region to be homologously recombined and the insert sequence.
This function is used to recombine the insert sequence with the designed homology arm into the genome.
Regardless of molecular biology, base sequence processing by information manipulation
Delete Sequence: Deletes an arbitrary region of the genomic base sequence.
Fragmentation: Cut the genomic base sequence at the specified base position (multiple designation possible) and fragmentes it.