Ligation
Purpose and overview
Ligation is an essential experiment to perform molecular cloning. IMC combines various nucleotide sequences including annotated nucleotide sequences with each other in the same manner as in actual cloning experiments to generate the products. All annotations are properly succeeded also to the ligation products and their products can be analyzed using many functions of the IMC as well as the original base sequence.
Function
If the terminal sequences complementarily match each other, ligate them into one base sequence.
Up to 5 fragment segments can be ligated.
You can generate all possible ligation sequences.

In Version 7.24 and later, the complete complementary sequence of the ligation product is counted as a separate product.

Annotated nucleotide sequences of GenBank and EMBL format can be ligated as well, and these annotations are properly inherited by the ligation products.
If the shapes and sequences of the ends of the base sequence complementarily match, a circular base sequence is generated.
It displays a list of restriction enzymes that can be used to check the insert direction of each fragment in the generated ligation product.

Also displays gel electrophoresis pattern when using these restriction enzymes.

Displays the terminal shape of all base sequences loaded in the current folder.
Self-ligation can also generate circular DNA.
It also supports TA cloning of PCR products.
Before ligation, you can see the end shape of each piece.
Plasmid map of the ligation product can be drawn. In this drawing, you can represent the insert area with a balloon
The result of binding by ligation is a covalent bond (phosphodiester bond) equal to the bond between other bases, so after binding it can not distinguish originally.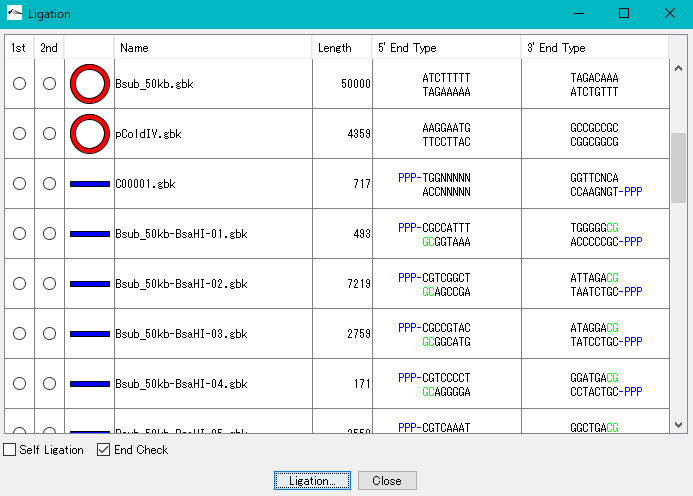 The base sequence generated as a ligation product can be analyzed in the same way as the original base sequence.
Restrictions
Currently, ligation linking 6 or more base sequences is not possible.
Algorithm
For restriction enzyme cleaved sequences on IMC, special Feature Keys and Qualifiers are generated that indicate the terminal status.