A database for local BLAST search can be generated from the obtained base sequence file or amino acid sequence file.
Usable base sequence formats: GenBank (.gb, .gbk, gbff), EMBL (.embl), FastN (.fna)
Usable amino acid sequence formats: GenPept (.gpff), FastA (.faa)
Operation
From the menu click File -> Create Blast DB.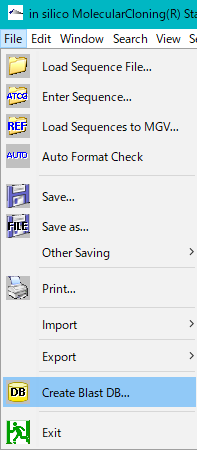 The Blast DB List operation dialog is displayed.

Click Add Amino Acid DB ....

The Blast DB Setting dialog box is displayed.
Amino Acid File (s): Click Ref ... on the right side of the column to specify the file to create the database. It is also possible to specify multiple files simultaneously.
The selected file will be displayed in the pull-down menu.
DB name: In the input field, specify an arbitrary database.
You can select either local or server storage location for the database. In order to create the database, you need to confirm in advance whether there is free space.
The default storage location is C: \ Users \ User \ imc_xx \ data \ db on Windows.

When you click "Run", an execution confirmation message "Create Amino Acid DB?" Is displayed.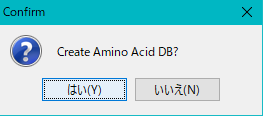 Click [Yes (Y)] to start the database generation.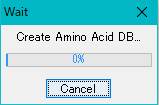 A progress message is displayed during execution.
If you click "Cancel" during execution, the execution will be interrupted and the database will not be created and will be terminated.
When generation is completed, a completion message "Completed !!" is displayed.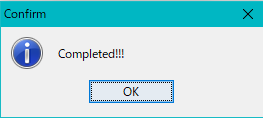 Click "OK" to close the completion message and display the database you have created in the Blast DB List dialog.

This completes the creation of the database for Blast search.