The Qualifier Order tab pane lets you specify whether or not the Qualifier displayed as a tooltip appears when the mouse over a feature on the feature lane of the main feature map and the order.
You can select alphabetical order, list order, and order you set up freely by the user.
Also, you can specify display / non-display of the position on the genome of Feature there.
This setting also applies to the display on the Info tab pane for the feature that was clicked.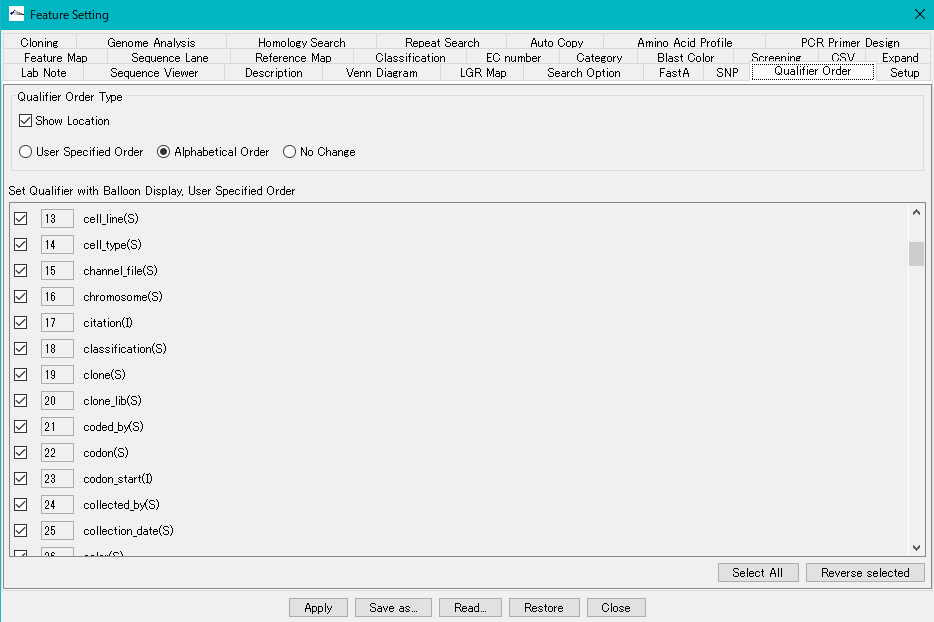 Show Location check box: When checked, the tooltip and the location information on the genome sequence of features displayed in the Info pane are displayed.
The next three radio buttons are toggled.
User Specified Order radio button: When checked, the rank input field of each Qualifier row in the Qualifier list is ready to be entered and the display order can be specified directly.
Alphabetical Order radio button: When checked, the display order of Qualifiers will be in alphabetical order. The order of the Qualifier list is almost in alphabetical order.
No Change radio button: When on, it will be displayed in the order as it is written in the annotated base sequence file being loaded.
Set Qualifier with Balloon Display, User Specified Order Section
A list of Qualifiers is displayed.
Item description on each line Checkbox: Only the Qualifiers that are checked are displayed on the tooltip or Info tab.
Rank text field: You can change it only if the User Specified Order radio button is on. Qualifiers are displayed in ascending order of this number.
Select All button: Click to check all Qualifiers.
Reverse Selected button: When clicked, unchecks the Qualifier being checked and checks unqualified Qualifiers.
For Feature Setting common operation buttons, please click here.