Perform a homology search with COG, which is an ortholog database, on the genomic base sequence for which CDS has been identified, and automatically post the COG function classification code. As a result, each CDS can be displayed in color classification on the feature map.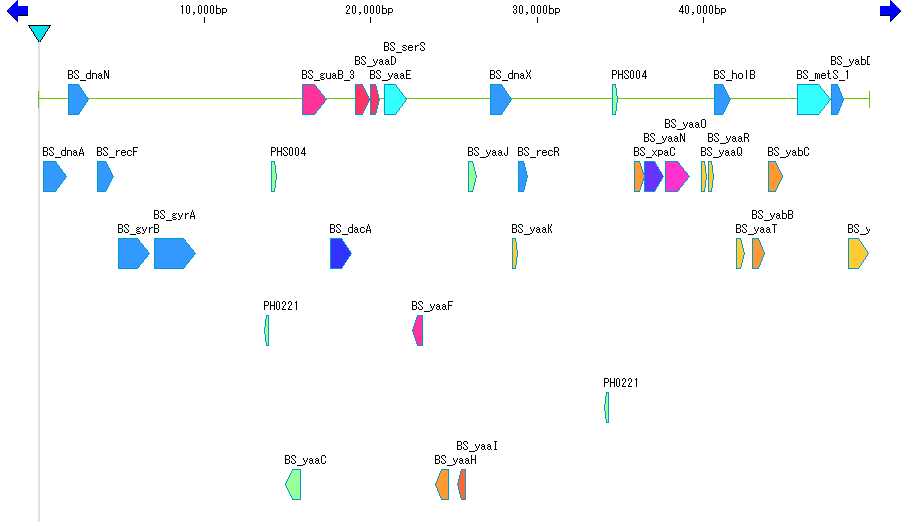 Implemented Edition
Preparation
COG database myva
Genomic sequence file: for example Bsub 50 kb.gbk
Although it can be executed with any genomic sequence, the eukaryotic genome sequence is not suitable as the COG database does not contain prokaryotic species other than yeast.
The sample sequence is taken from a partial region of B. subtilis, but if it is executed in the whole genome, processing time may be required.
Operation
Download the COG database.


It can be downloaded from NCBI or from our site download menu.

Register the COG database.


Use the DB registration function for batch homology search.

Select "File" -> "Create Blast DB" in Menu. Alternatively, click Create Blast DB in the toolbox.


Detailed information on "Create Blast DB" function

Load genome sequence.
The sample genomic sequence is generated in the "Users / Documents / sample" folder during IMC installation.
Or you can download from our download menu.
Execute ORF Extraction.
Select "Genome Analysis" -> "ORF" -> "ORF Extraction ..." from the menu.
Perform amino acid translation, convert each ORF candidate to CDS, and at the same time perform that amino acid translation.
Select "Genome Analysis" -> "ORF" -> "Translation" from the menu.
The Translation Run dialog is displayed.
If no amino acid sequence is registered in each CDS, the search will be "No Hit".
This process is unnecessary if the amino acid sequence has already been registered in each CDS.
Each ORF candidate is converted to CDS and amino acid translated using the specified Genetic Table.
Detailed information on amino acid translation function of CDS
Perform batch homology search.
To target all CDSs on the genome, select "Genome Analysis" -> "Homology Search" -> "Homology Search for Selected Feature Key" in the Menu or click the Bat Homology Search button in the tool box.
If you want to target all CDSs in a specified area on the genome, drag the area with the mouse and specify the area. Right-click on the selection area and select "Homology Search by
Selected Feature" from the displayed pop-up menu.
In the Batch Homology Search dialog that appears, select the COG database and click the Set button to start execution.
Detailed information on Batch Homology Search function
Classification code is displayed by Classification Code.
Click the "Draw Feature in Classification Color" button on Toolbox.